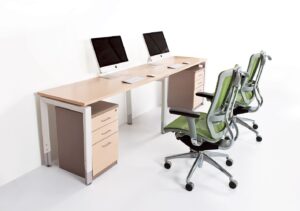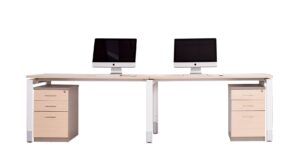 ACCESSORIES NOT
INCLUDED
Create a collaborative team environment with the Two Person Straight Desk in soft maple. This height-settable desk offers the appearance of two large lavish office desks side-by-side, while still optimising your office space.
With a scallop feature at the rear of the office desk, you can keep your desk free of messy cables and whilst also facilitating the addition of clamp-on accessories like monitor arms and power boards. By adjusting the desk to suit your height, you can be ergonomically supported throughout the day.
The oblique design makes this a unique desk that adds a modern touch to your workplace. The slim, minimal design means it will suit any existing office aesthetic. The Two Person Straight Desk can also be paired with more of Sylex's ergonomically designed office furniture and accessories.
2 Person Straight Desk 2400W x 750D X 720H (620H – 920H) Soft Maple – FIO2DK2475S
2 Person Straight Desk 3000W x 750D X 720H (620H – 920H) Soft Maple – FIO2DK3075S
2 Person Straight Desk 3600W x 750D X 720H (620H – 920H) Soft Maple – FIO2DK3675S
ENQUIRE NOW