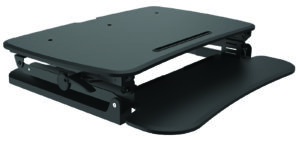 Deskalator  Available in Black & White
Convert your current desk into a Standing Desk with our Ezy – Stand desk riser it sits on your existing desk and lets you change posture through the day.  Our NZ deskalators are functional in design and can be fitted to any type of office or desk. The unit has sufficient space for your monitors, keyboard, mouse and mousepad.
Deskalators can be adjusted to 13 different height adjustments.  You can raise the monitors and keyboard for more comfortable seating or promote a healthier sitting posture or you can raise it high enough to allow you to stand up straight while working, rule of thumb stand for 20 minutes and sit for 40 minutes. Deskalators are not just great for improving your health. They also enhance office flexibility.  Multiple workers to the same computer can adjust the screen height according to their need. This is the perfect solution for businesses with shared space and hot desks.
Specifications:
Available in black or white
Medium 890w / 580d
Small 680w / 580d
150mm to 500mm height range
Max weight 15kg
Features:
10 Year Warranty
Encourages movement perfect option to stretch out your back
Ergonomic
Afforadable sit stand option with the in expensive price tag
Adjusts straight up and down. Always in easy reach.
Scissor structure and gas spring offers smooth supported height transition.
15 available options for height adjustment.
Wide adjustment to suit all users.
Support groove on the surface to mount smart phone & tablet.
Advanced design avoids any danger of clamping injury.
Easy height adjustment via two activation paddles.
3 hole mounts for easy-fit single or dual monitor arms
Availability:

3-7 working days

Shipping: 

Free delivery
Small 680mm  $459
Medium 890mm  $529